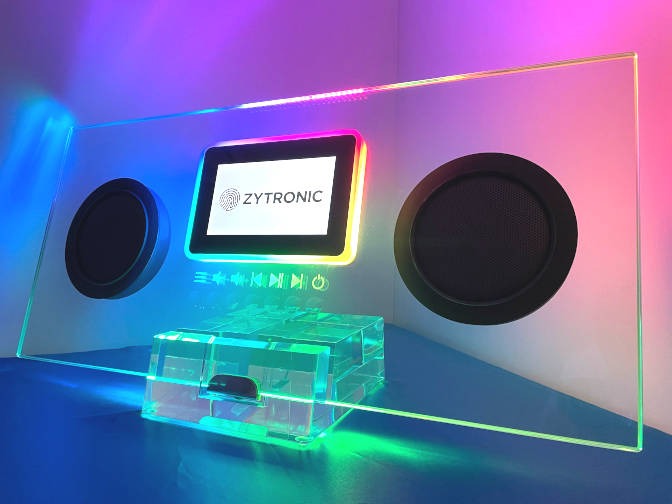 The hi-fi system is intended to show "how the technology can simultaneously power a set of floating Bluetooth speakers and an LCD", according to the company. "In addition, the system integrates Zytronic's projected capacitive touch technology with carved features on the surface of the glass to provide a tactile feel for users to adjust the volume, pause, and so on."
Alongside a hands-on demonstration of its power handling capabilities using an LED light bulb, a switch to turn it on and off, and multimeters showing voltage and current, where will be an illuminated shelving unit – for example for displaying jewellery, an illuminated mirror with light bulbs plugged into its perimeter that can be individually or collectively controlled wirelessly via Zigbee, and a halo-shaped glass chandelier suspended through piano wires.
"The takeaway we'd like to give visitors to our stand during Light + Building is how ElectroglaZ can be utilised to deliver power transparently through glass to any low voltage device," said company technical director Andrew Morrison. "We can help you develop a creative solution, with enhancements utilising our touch technology, machined surface features, lamination, printing and optical treatments."
Zytronic is based in Tyne and Wear, and can be found in hall 9.0 on stand D09 at Light + Building (2 to 6 October 2022).