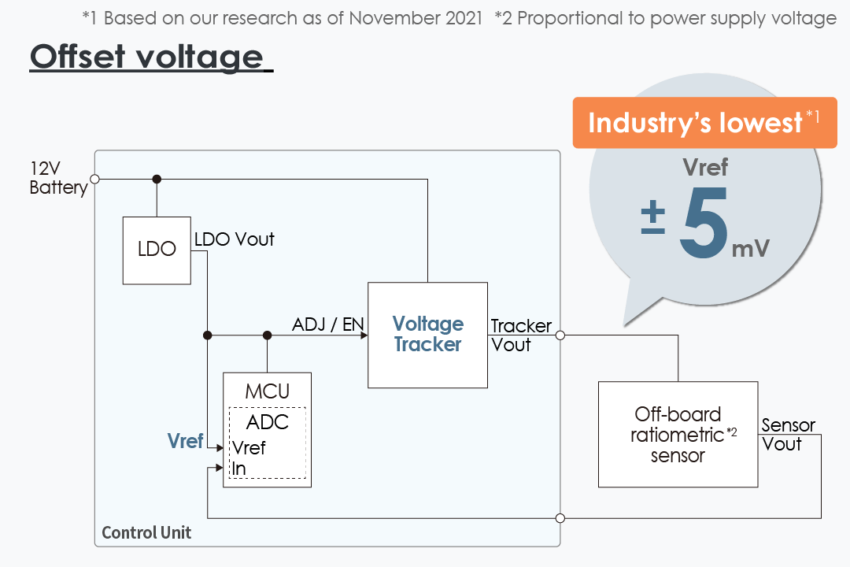 ABLIC's automotive voltage tracker contributes to high-accuracy sensing
ABLIC's S-19720 is a voltage tracker with a low offset voltage of ±5 mV. This helps keep the power supply voltage of the off-board ratiometric sensor equal to the reference voltage (VREF) of the analog-to-digital converter (ADC) handling ECU measurements, raising sensor reading accuracy.
The S-19720 also integrates an overcurrent protection circuit, a thermal shutdown circuit, and a reverse current protection function. As a result, it will protect an ECU even in the event of a short to power/short to ground in a wire harness. The S-19720 achieves low current consumption during power-off of 4 µA (typical) when this function operates.
Features
Input voltage: 4.0 V to 36.0 V
Offset voltage: ±5 mV (0.1 mA ≤ IOUT ≤ 50 mA)
Dropout voltage: 160 mV typ. (VADJ/EN = 4.0 V, IOUT = 10 mA)
Current consumption:

During operation: 30 μA typ.
During power-off: 4.0 μA typ.

Output current: Possible to output 50 mA (VIN = VADJ/EN + 2.0 V)*1
Input capacitor: A ceramic capacitor can be used (1.0 μF or more)
Output capacitor: A ceramic capacitor can be used (1.0 μF to 1,000 μF)
Built-in overcurrent protection circuit limits overcurrent of output transistor
Built-in thermal shutdown circuit with detection temperature of +175°C typ.
Reverse current protection function: IREV = -5 μA min. (VIN = 0 V, VADJ/EN = 5.0 V, VOUT = 16.0 V)
Operation temperature range: TA = -40°C to +125°C
Lead-free (Sn 100%), halogen-free
Withstand 45 V load dump
AEC-Q100 qualified
more information: https://hub.ablic.com/en/products/s-19720