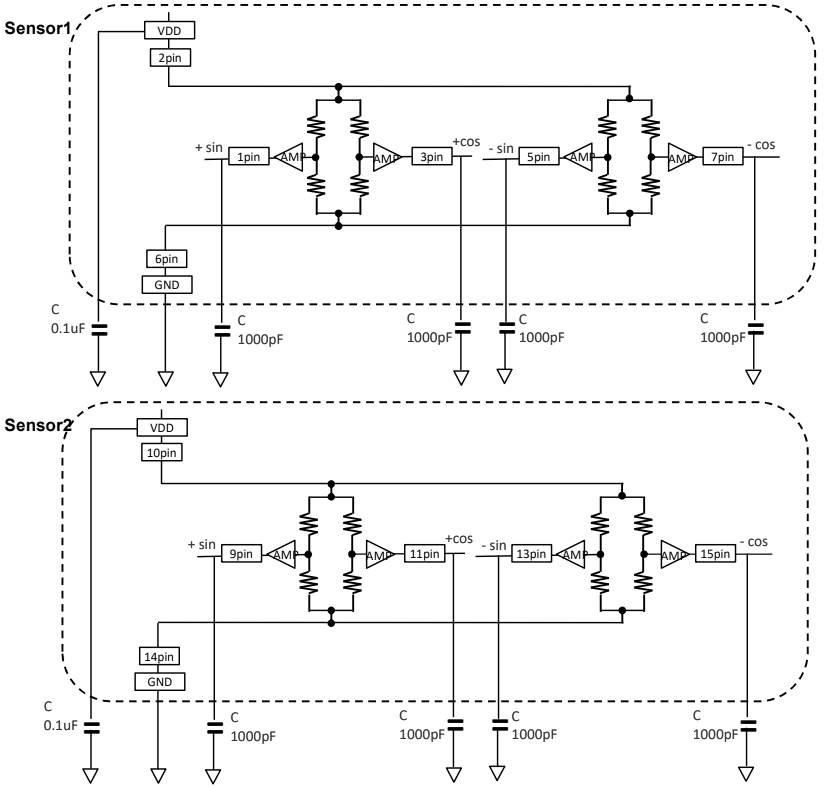 "Redundancy design is increasingly a requirement for automobile driving systems," according to the company. "The use of multiple sensors was once the typical way of realising redundancy, to ensure that systems function safely even when a fault occurs. In recent years however, smaller systems mean greater demand for angle sensors that achieve redundancy by providing two output signals from a single product."
Called HGARPS001A, the part expects a 3 to 5.5V supply rail and each if its die produces a par of differential analogue outputs: +sin, +cos, -sin and -cos (so eight outputs in total from the package, see diagram).
With a 5V supply, each individual output is centred around 2.5V (±250mV) and sweeps 2.825V peak-to-peak. Phase difference between sine and cosine differential pairs is 87.5 – 92.5°. Expected accuracy after external compensation is typically 0.1° (0.6° max).
Operation is with magnetic fields from 10 to 120mT, and over -40 to +150°C.
Power consumption is typically 10mA, and the parts meet the AEC-Q100 automotive for reliability, according to the company. "They perform well in environments up to 150°C, while also achieving magnetic field resistance of 120mT through application of original thin-film technology," it said.
Packaging is 5 x 6.4 x 1.1mm TSSOP16.
You will have to wait for mass production as it is scheduled from April 2024. However HGARPS011A is a smaller (3 x 4.9 x 1.1mm) single die version that has been in production since May.
The dual-die HGARPS001A product page can be found here, and there is a general magnetic sensor application note that includes dual-redundant sensors