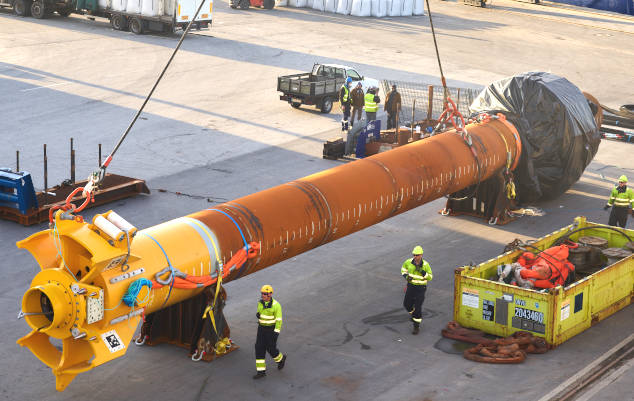 The custom anchor, dubbed Umack, has been installed 4km off the coast of northern Portugal at Aguçadoura, where the giant buoy will be part of the HiWave-5 wave power demonstration project.
C4 generates power by bobbing up and down along the axis of its single attachment line, for the other end of which the anchor has been developed.
It is 24m long and 1.6m in diameter and weighs 43tonnes. Designed for Aguçadoura sea bed of mixed sand and clay, it has an ultimate tensile capacity above 15MN, and a 100 million load cycle life is predicted.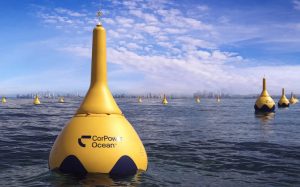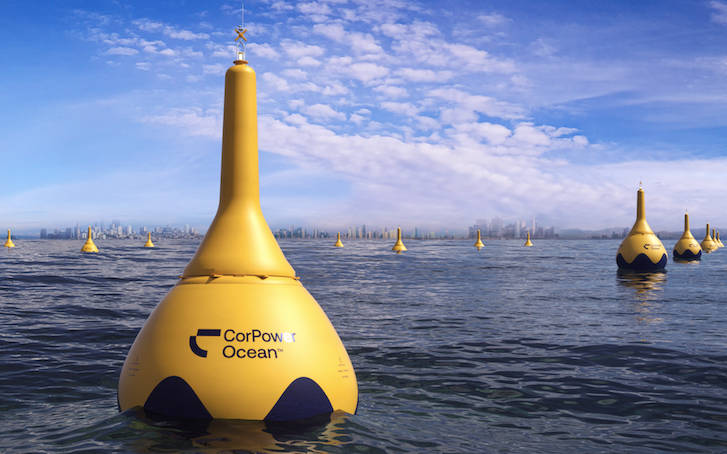 Installation was by temporarily attaching a car-sized 'vibro-hammer', supplied by Dieseko, to the top of the pile and lowering it to the sea bed where it was vibrated home. Even the crane needed to be special – a 'heave-compensated' hoist on the vessel Maersk Achiever.
"The success of the project hinged on careful planning and close collaboration with partners from Dieseko and Maersk Supply Service, in addition to nearly four years developing and scale-testing Umack anchor technology," said CorPower engineer Ian Denton." The outcome demonstrates the readiness of deploying this anchor at industrial scale."
One C4 will initially be installed at Aguçadoura, to be followed by three more to form a grid-connected wave farm.
CorPower sees commercial prospects for the pile design beyond its energy harvester: "The technology provides an improvement to the vertical holding capacity of pile-type anchors. It offers reductions to cost and carbon footprints compared to both mono-piles and gravity foundations, and can support off-shore installations such as marine energy devices, floating wind and aquaculture."
The company estimates that an equivalent mono-pile to the Aguçadoura Umack would need to be ~4.5m in diameter, 22m long and weigh 153tonnes, while a gravity anchor would need a mass approaching 1,500tonnes.
Hiwave-5 is funded by the Swedish Energy Agency and Portugal 2020 through AICEP Global and CCDR-N.